Above - Bell 212 PAV on Kumul Platform helipad.

Hughes 500 bucketing water to remote camp site on Hedinia Range PNG during the pioneer pipeline survey of 1989.
Bell 212 lifting a geotechnical drilling rig at Mubi River. Who was the madman who let the Crusher drive?
Chinook lifts a 25 metre tower from Aird Hills, PNG.

Above - Russian MIL26, can lift 20 tons, useful for rig moves.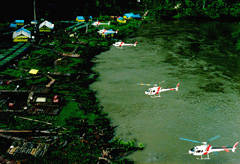 5 Squirrel Helicopters land at Mubi Survey Camp.